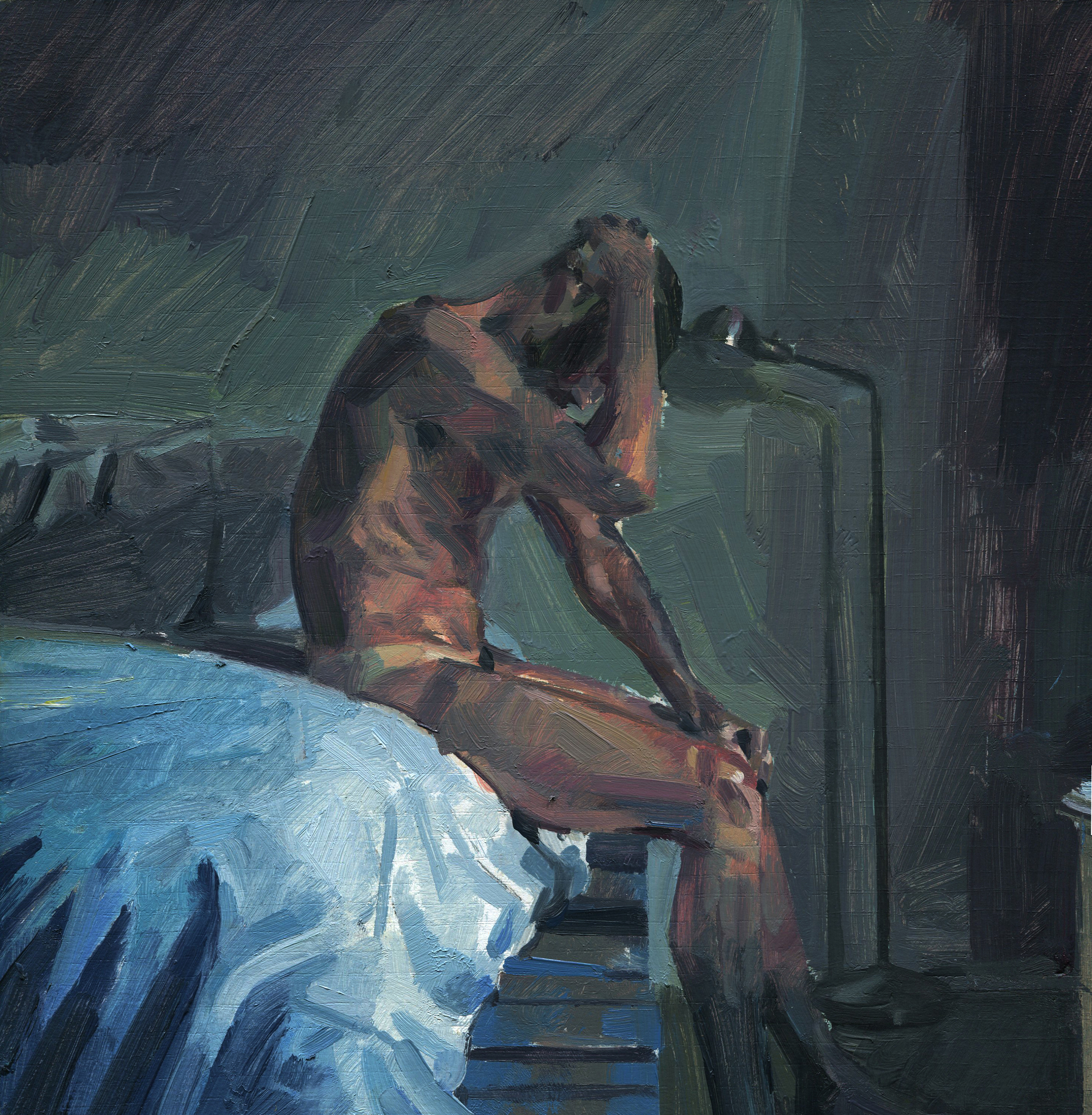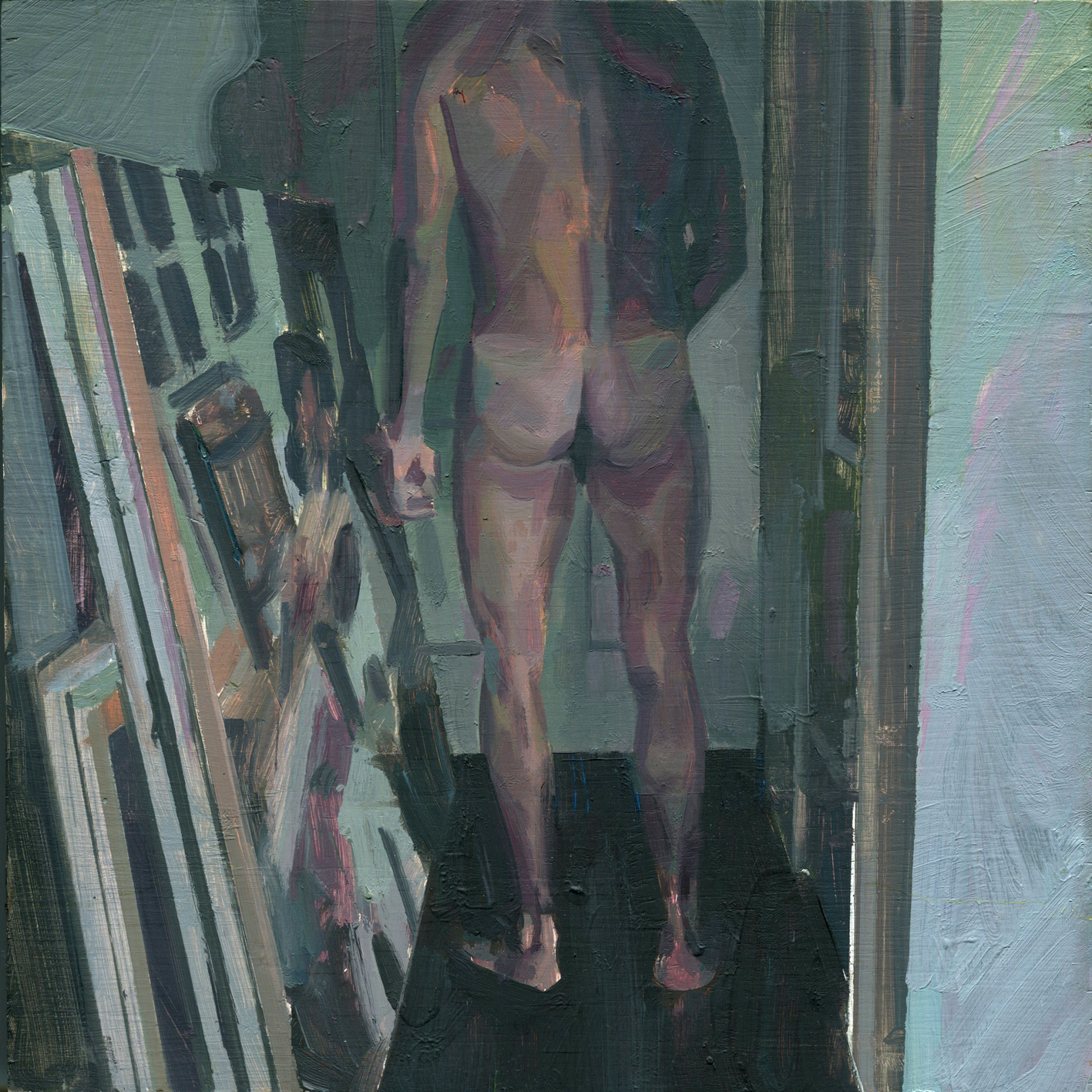 KAYLA OVER A BLACK CHARI OVER A ACARPET OVER A WOODEN FLOOR AND A BIT OF A MESS
Oil on hard board.
I met Kayla in a restaurant. She was far way in the other side of the restaurant. She was so pretty I couldn't eat or listen to anybody around me.
She was surrounded by men, but I approached her anyway. I never did such thing. I felt totally obsessed. it took me one year to see her again.
All I got from her was a painting and lots of photographs.
Oh, well.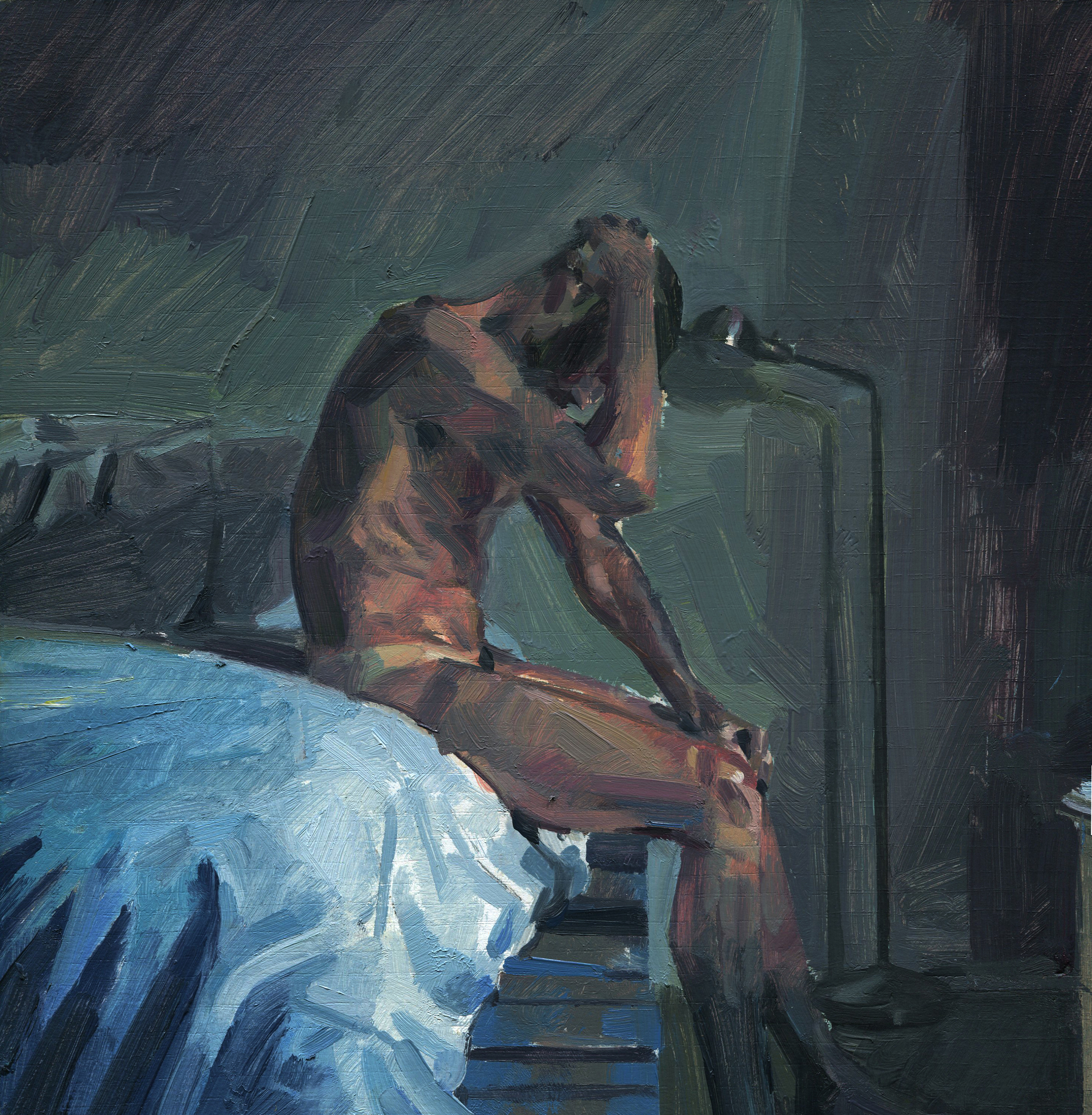 Self Portrait 01
Oil on hard board.
My latest paintings are often self portraits. Im not sure why. I never know why I paint one thing or another. However, later in time things make sense and I understand my choices.
LUCIA. OUT DOOR MEMORIES 01
LUCIA. OUTDOOR MEMORIES 02
EMPTY INTERIOR 01. Berlin.
Oil on 2 canvas piece.
Empty interiors. Here is the first of a series. It too me a while to understand why I was painting such a subjects.
EMPTY INTERIOR 02. BERLIN.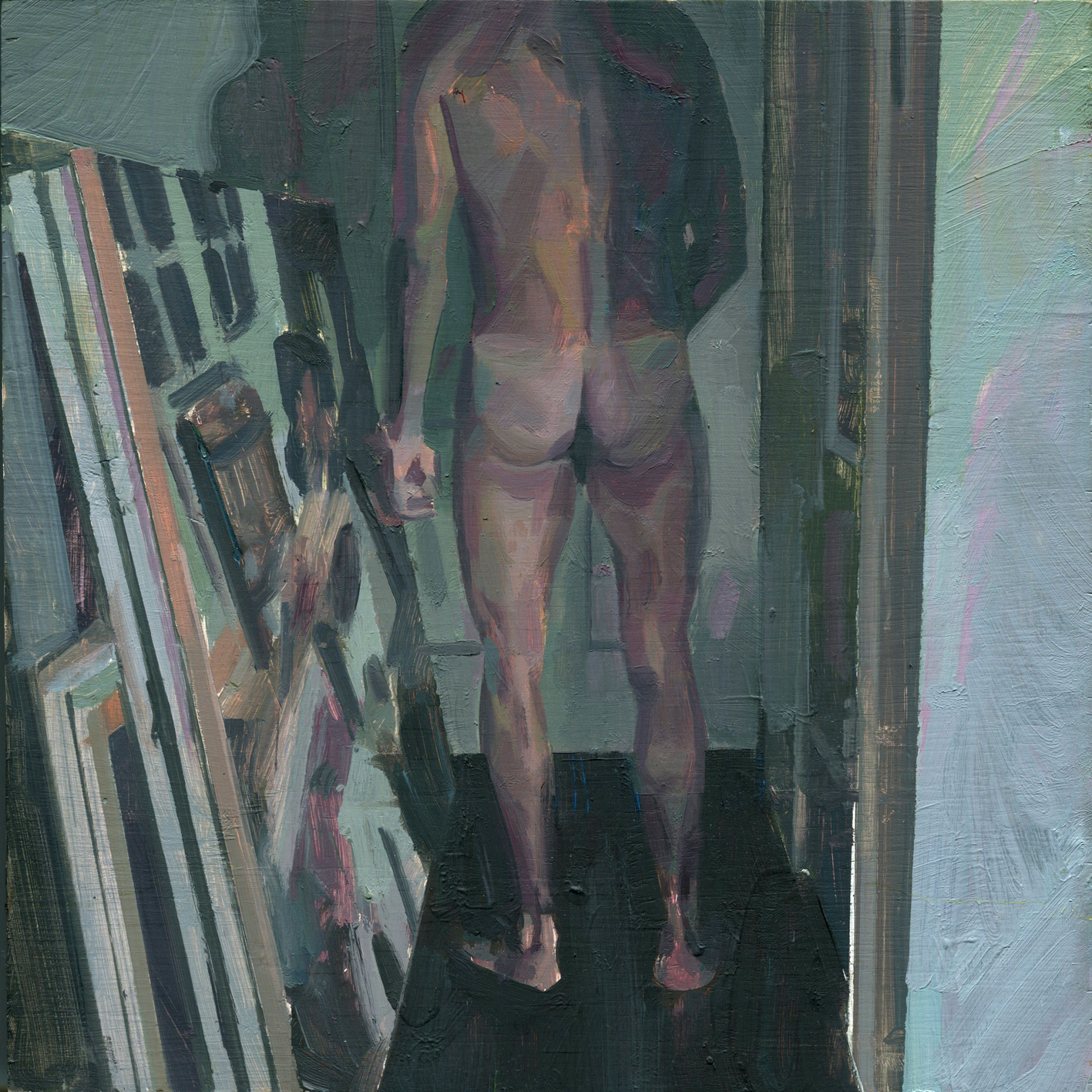 Aida
Aida has been the biggest influence in my persona and artistic career. More than any other artist, more than any book, more than any art movement. For me, she was a walking piece of art. I was obsessed with her. Her body, her face, her lips, her skin, her eyes, her voice, her breath, her smell, her sentences, her walks, everything on her was my favorite part.
Sometimes, when she talked to me, I couldn't listen because I was hypnotized by her. I scrutinized her, analyzed her, I learned her by memory, every millimeter of her body like a city map.
Therefore I was painting her, drawing her and loving her every minute I could. I probably made thousands of paintings and drawings of her, I learned more about drawing and painting with Aida than with any book, teacher or damned tutorial.
She was the friend of a friend... blah, blah. First time I saw her I couldn't believe she was in front of me. We talked for hours, we kissed and we make love right there.
I was 18 , she was 17. I couldn't believe she was in front of me.
We spend 12 years together. Most beautiful time, full of intensity, sex, love, care, respect and lots of passion.We lived in Madrid, in London, in Madrid again and we travel around the world as much as we could.
But it was a time in our life in which we wanted a change. Typical story, but not really.
We both took the brave initiative, a mutual agreement.
It's been many years since our separation and funny enough we didn't talk since. I guess it's because situation still very delicate and we both don´t want to hear the wrong information.
We said goodbye with hope. We had the longest kiss, probably as intense as the first one was. It was a kiss full of hope and while we kissed we tasted our salty tears between our saliva.
I think about her every day.
Solo 01
I was facing a new time. Alone. SOLO.
I was very excited, but artistically I was feeling rather empty. I was painting friends, photos, looking internet, magazines… searching something to paint. I lost my muse.
I was mostly concentrated on my technique.
I'm quite happy with those paintings because they are quite empty of meaning, they feel very right. Technical. Loose. Meaningless. I was only focused on the painting itself.
The difficulty of painting a muse is that I try to paint them as beautiful as they are. But that's actually impossible. When I paint something else, I just focus on shapes, colors. Art for the shake of art.
Solo 03
... One of those "single" evenings. Any random Monday or Wednesday night, I was watching a Michelle Sinclair's ( aka. Belladonna ) movie. Most exciting porn sequence I've seen in my life.
Right in the beginning Belladonna, Sasha Grey and Brianna Love are deeply kissing each other as if there is no end in their lives, sharing everything on them. Images where so inspiring. Believe it or not I decided to pause and start drawing and painting.
Dispair 01
Oil on canvas
I didn't like too much how things were going at some point in my life and I was feeling quite miserable, especially after hearing some
indirect news about Aida and some guy. I closed the door to a short period of experimenting and positive excitement and opened the door to a long period of anger and despair. Bah, maybe not so long.

I had several experiences with several girls. But I didn't paint any of them. Short empty experiences.
Instead of staying with family and friends, instead of avoiding the "problem", I decided to face my situation and travel around alone. Great experiences, but even though I found this to be a big mistake at the time, in the long term it healed some bounds. But scars are there, no matter what. No matter if you choose face the problem or go around it, scars will endure as a reminder.
Laura
First time I saw Laura I was 18 and she was 12. I remember saying to my friends:
"Jesus, that kid it's going to be a knock out"
I met Laura again some Christmases later. I was 31 and she was 25, and I was right, she was a knock out.
Beautiful, tall, brunette with the most intriguing dark deep eyes, and the most incredible deep low voice.
She could whisper to me and turn me on. We had a short but very intense time together.
I was planning to move to L.A. so I couldn't get too serious anyway…
She was living in another city in the north of Spain, so she couldn't get too serious anyway…
I was really needing Laura. I swear she came right in the perfect moment, when I most needed her. And I
think she was very much in the same situation. The right timing it's the only thing that make things happen.
That, and that we both didn't want to have too much commitment.
We are very close, we talk often.
Paula & Gemma 01
Oil on canvas
Paula was the most pretty chick at school.
We were very young and she didn't have boobs at all at the time. She told me one day that a doctor told her that she was a late kid and one day she would surprise everybody. And that Dr. was damn right.
All of a sudden, after some summer, she appears with the most perfect round boobs and some centimeters added on every direction of her skinny body, shutting the mouth of many at school and awakening the
desires of all of us. However, and again, my big nerdy glasses were in the middle and I lost her track after a while.
So I met with Paula again, years later, when we both were 30. She was still beautiful, probably even more.
I remember our long conversations, both naked in bed talking for hours about school, about relationships, about everything, waiting for the next day to start. How nice it is to share the same past with someone!
Paula is now one of my best friends. I love her attitude, she is a brave and a hard worker and talks out loud, with no same. Powerful woman she is.
She came to visit me in Los Angeles right after I moved here, and she brought her friend Gemma... ( continue )
Paula & Gemma 02
Oil on canvas
( continue ) ...Paula came to California to visit and spend several weeks around California. She told me she would bring her friend Gemma, whom I didn't know at the time.

They spent several weeks at my place and Yes, I was trying a threesome, which was a bad move as I find out that Paula was not too comfortable with my desire...
Gemma had a boyfriend at the time and even though I was trying my best… it didn't work. But we had the best time together and we became so close the 3 of us. We went to every bar, to every market,
talking about anything possible. They both came in a time in which I was needing something like that and I would never forget those days.
Gemma and Paula are my girls. I love them both and they know me quite well.
Gemma then became also one of my best friends.
Carolina
Oil on hard board.
Carolina is the greatest dancer I have ever seen. She was the headliner of one of the most exclusive and celebrated hot-spots in Hollywood: Forty-Deuce.
Always working, always busy, always on a plane, on a car, or on a stage.
I meet Carolina at Eastside Luv Bar, where she dances every so often. That night she danced, we talked, we exchanged numbers and she told me she had to go. Always working, always busy, always on a plane, on a car, or on a stage.
For some reason, that night, the bar was full of fat and ugly people, or may be that was the impression I had when I saw Carolina and her friend at the very far end of the bar, wearing the most amazing lingerie and stretching their long legs.
Ten minutes after, lights went off, music started and all of a sudden Carolina's friend was dancing on top of the bar.
Carolina was just on my right, watching. We start talking while she was doing the most amazing warm up and stretching moves right there in the spot, as she was about to dance too. I asked her to wink at me on her show, and she did. I think she does it as part of the show, anyways...
She danced on top of the bar, moving that incredible body, making the bar crazy, cheering her, loving her. Moving that butt of her's, (because Carolina's butt it´s a piece of art) looping and stripping in the most exciting burlesque way.
Then we became really close.
Meeting Carolina was a life altering event, she changed the way I felt about Los Angeles . And she has the amazing ability to call me when I need it most.
You can see Carolina dancing, always accompanied by the finest latin jazz musicians at La Descarga, Edison, Eastside Luv and in her own event, THE FLOOR show , which is one of the most interesting nights in Los Angeles.
Manuela
Oil on canvas.
First time I saw Manuela I was secretly in love.
I was with my friend Alex in Granada (Spain), who was selling art work in the street in a beautiful tourist market, "El mirador de San Nicolás".
Manuela stood looking at my friend's stuff with her friends, but she quickly went away. She didn't even notice us.
I was not intending to be in Granada that afternoon. A very improvised last minute decision made me take a train while I was walking in front of a train station. Granada wasn't my city and it wasn't her city either. Manuela is from Puerto Rico. She was studying in Granada and she was randomly walking around the streets.
I remember mumbling something to my friend Alex but did not even wait for his answer. I went rapidly after her and told her that I never saw a such a beautiful woman in my life. And I promise: I was genuinely honest.
Her eyes are a mix of green, blue, brown, golden. Her features are sharp as knives, her skin is dark, her mouth, it's unreal. I always imagine Manuela in a jungle, or riding a horse or coming out of the ocean with a knife in her mouth.
Manuela is also the most shy person, so my approach literally paralyzed her and a friend of her's came to rescue both of us and we went for a drink.
I went back to Granada very often with the only excuse to see her again.
She went back to Puerto Rico, where she lives now. We met again and after in Madrid, she also came to L.A. to spend some time at my place and we talk very often.
Usually we met people through other people, through work, through school, through neighbors, parties… But Manuela and me don't have any common friends, we are from different spaces.
But our lives crossed for seconds and I grabbed her, making our lives to stop, aligning probabilities for seconds under the astonished gaze of our own drivers.
I think she is the most beautiful woman I've seen in my life.
Monika 01
Oil on hard board
Monika was the prettiest girl at High-School but we didn't go to the same class. Anyway I had the biggest nerdy glasses at the time and I think she couldn't see me behind.
We lost track from each other until I saw her again. Yes in Facebook, then in a bar, then in a reception hotel, then in a hotel room.
Monika, half Spanish, half Canadian, half Polish, half who knows. Pure explosion. A classic 18th century beauty. Most amazing pale and soft skin, blond hair, blue eyes. So exciting, so beautiful so clever and so inspirational.
I always think about Monika's dress with beautiful countess dresses from 18th century surrounded by luxury and wealthy palaces.
I remember doing lots of drawings, paintings and photos during an amazing night in a hotel room with lots of Champagne.
Alice 01
Oil on canvas.
I went to a Thanksgiving party at Yanelis´s, Brianna's and Silviá's house. Alice was there.
I remember entering through the kitchen and seeing Alice far away in the house. My eyes couldn't move away from her. I was seriously fascinated. Any position, any move was the most beautiful composition. And then I had the most serious crush on her.
Alice has that impossible beauty, delicate, soft. Everything on her is pretty and exciting. In my mind she is in a narrow space between Emmanuelle Béart and Ana Karina.
I know she is a hard worker. Winner of 3 France championships in Gymnastics and 10 French national medals. That only happens with crazy hours of work and punishment. She was one of the main figures from the acclaimed Crazy Horse Cabaret in Paris and right now the cute Scarlet at Cirque du Soleil's Iris,where you can have the pleasure to see her every night.
So we decided to meet several nights and paint. And we did, and while talking Alice created, in the most natural way, the most fantastic images in front of my eyes.
We both work together on some of my favorite pieces so far. I´m so glad I met her.
Painting Alice was pretty much an excuse to see her again.
Michelle
Oil on canvas.
I met Michelle at the opening of an art show at LACMA. She was walking right in front of me, with several other people and press.I introduce myself and we started talking. I wanted to show her the painting that I did based on a frame of one of her movies.
I was trying to show that particular painting on my phone, but AT&T ruined such a moment, as many others (by the way). So we exchange emails instead.
She wrote me back and I propose her to meet and talk about a possible painting from life. We decided to meet at a coffee place in Hollywood.
Michelle talks about sex naturally almost as if she is giving you a cake recipe. I remember seeing people around us walking away, a little bit scandalized. I was fascinated.
We met several times and I discovered an incredible character far from what I was expecting. So sweet, innocent and yet extremely sensual.
I think that apart from her incredible sexual abilities, people love her for being natural, and raw and sweet.
She was then a producer and director of her own production company and I feel she is enjoying her well deserved success.
We are now great friends and I LOVE expending time with her and talk and talk. I want to do more paintings of her.
Innocent, in a way.
Beautiful short documentary ( or at list I think is beautiful short documentary ) about the painting process with my friend Michelle and the follow up of our dispair lives.
Directed and shooted by Alexis Wanneroy.
Gonzalo
Oil on canvas
This painting is the first of an unsucessful personal project. I wanted to portrait friends, personal influencial people during my time living in the south of Spain, RONDA ( Málaga ). Gonzalo was the first and only I ever did as I had to leave Ronda and move to Los Angeles during the process.
Anyway.
Alberto Mielgo, a moment in time
This great short video , directed by Hugo Redrose, depicts the process painting of my great friend Gonzalo in my studio in Ronda ( Málaga, Spain ).
Kobe Bryant
Oil on canvas
Never ever ever ever I do commission paintings. If somebody come and ask me to paint a wife or a son or themselves in a chair I cannot hate it more. In this occasion Nike asked me to do a portrait on Kobe Bryant and I say yes. But not sure why. Perhaps because was commercial but most likely because it was Nike.
Anyway, now Nike owns the painting. I could never take a great picture of it because they put it somewhere on the darkness on a fucking warehouse in Portland or whatever. Fuck commission paintings.